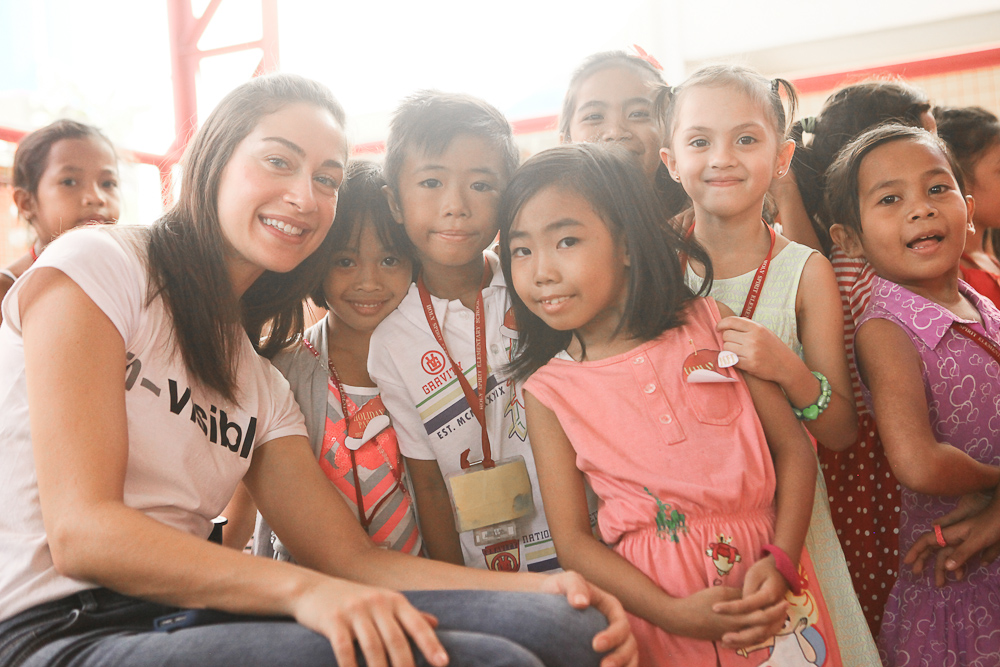 Written By Adina Belloli, Founder and Director of In-Visible
My profound passion to help children began at the age of 14 when I worked as a junior volunteer for a children's hospital. For the past 16 years I've been working with women and disadvantaged children either as an employee or volunteer. I've worked with paediatric cancer patients and their families in Pakistan, child refugees in America, at-risk primary school-aged girls in the UK, female prison inmates in America, and children and families living in extreme poverty in the Philippines.
I founded In-Visible, after spending a year conducting research in the Patient Safety Department for the World Health Organisation (WHO) and Imperial College of London. Although there are thousands of amazing charities and government organisations working together to put an end to extreme poverty, it's still not enough. Even though extreme poverty rates have cut in half since 1990, every 10 seconds a child dies of severe starvation. I'm sure you'll agree with me when I say that this infant mortality rate is unacceptably high. Especially when there is sufficient food in the world to cater for everyone's needs.
So why do so many find themselves ensnared by extreme poverty? Millions of people worldwide are trapped on an downward spiral, fighting for food, education...and their lives.
I felt a strong need to create a new paradigm in the world of philanthropic organisations. One centred on a simple objective; to connect people by being a virtual bridge between poverty and those who could help the most.
On one side of the bridge, you have individuals who desire to be a part of a movement and break cycles of poverty in a sustainable way while building a lasting, emotional connection to the people they are helping. On the other side of the bridge, you have a community of people who want to learn and be empowered. In-Visible is not about handouts or faceless, nameless donors. We take a holistic approach, which I believe is the only way to truly fight poverty.
Why The Philippines?
Once I made the decision to start a charity, I made a list of countries where I had strong contacts on the ground. The Philippines wasn't actually on that list. However, my nanny at the time, a Filipina, asked me to consider her native country. So I booked an exploratory trip to the Philippines to meet with local government, NGOs, and various contacts. During that life changing trip I realised that the Philippines children need our help. With 85% of the country living in poverty it is no surprise that three out of 10 Filipino children are currently working to help feed their families. The statistics are shocking. Millions are being forced to endure an insufferable daily reality of poverty, conflict and lack of food. For these disadvantaged people, the hunger is unrelenting and the desperation is overwhelming.
Who is behind In-Visible?
We have a team of volunteers in London, Hong Kong, America, and the Philippines. These incredible individuals share my vision and commitment to creating a 'next generation charity.' We provide hope to those children without life's essential resources. Our mission is to bring real and lasting change to children living in poverty. We do this by creating partnerships with communities and implementing programs that ease their daily struggles, invest in their potential, and provide them with the opportunity to grow up healthy, educated, and prepared to succeed and contribute to society.
Because operational costs are privately funded, 100% of all In-Visible donations directly fund the programs in the Philippines, and the charity is run entirely by unpaid volunteers (47 globally). We do not pay rent or salaries. My role as the founder and director is to build awareness around our work, lead our fundraising efforts in the UK, and manage the teams and programs in the Philippines. I work in partnership with Ateneo de Manila University, which oversees the programs in the Philippines on a day-to-day basis. I remain extremely committed to the work abroad and pride myself on the close relationships I've built with all 40+ volunteers and staff.
Psychotherapy
Poverty penetrates deeply into the body, mind, and spirit. While studying Psychology at Southern Methodist University, in Dallas, Texas, I acquired a special interest in psychotherapy for children in poor communities. If, through therapy, children can experience a more positive view of their place in the world, then there is a chance for healthy development to prevail over their unfavourable environmental conditions.
I have witnessed the positive and transformative benefits of mental health therapy first-hand. That psychotherapy remains least accessible to the individuals who need it most is an undeniable cruelty and reality of our global society, which I am committed to changing. As a qualified Child and Adolescent Psychotherapist, a driver of one of my long-term professional aspirations is to provide psychotherapy pro bono to children in poverty through In-Visible.
I am researching and developing a method for volunteers to help treat children's psychological problems in a simple, straightforward and cross-cultural manner. In communities where I work in the Philippines, even simple child-friendly spaces staffed by trained volunteers could help relieve trauma and stress. This would allow teachers and volunteers to help significantly more children in need in developing countries.